Creating a website using Website Builder is gaining more popularity in recent times, why not? , It's 2021 and the name of the digital game is convenient.
Businesses don't just want to be online as soon as they can, they want to do so while saving time and money.
As a result, the new GetResponse Website Builder provides a no-code website solution for using AI wizard for your business in minutes while backing it up with all the existing marketing tools required to grow your business.
Let's take a look at what GetResponse Website Builder has to offer.
CLICK HERE TO TRY GETRESPONSE FOR FREE
 Inside this Article:
Getresponse website builder Features
Pricing
Who needs Getresponse Website Builder
What you get when you opt-in for the Getresponse website builder
How does Getresponse Website Builder Work?
Pros
Cons
Writer's Note
GetResponse Website Builder Features

AI- Wizard Website Creation

Website Builder uses advanced AI programming to build robust and complete websites. After users answer a few simple questions about their industries, companies, preferences, and styling, the AI Wizard will generate custom-made web pages immediately.
Do-It-Yourself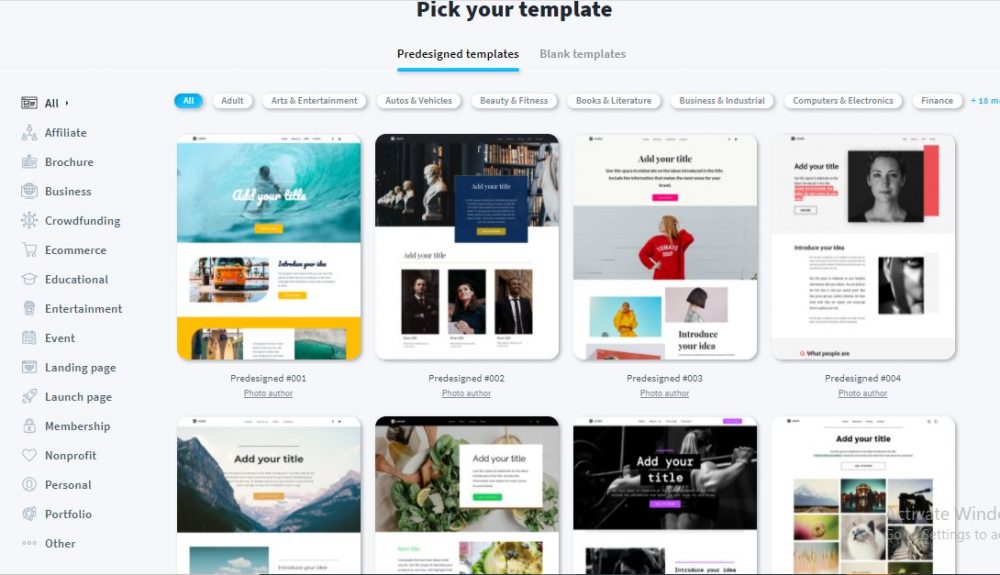 GetResponse Website Builder is Do It Yourself, that is, users can use the various templates available to create and customize a websites that suitable for their business need. Also, an intuitive drag-and-drop editor enables additional customization for unique website designs.
Design Simplicity
You have nothing to worry about if you don't have coding skills or spend exorbitantly on programmers, and vulnerable plugins – Website Builder has the end-user in mind.
Also, it allows users to change styling, colors, and fonts for the entire website in one click with global design controls. Use thousands of free images through our seamless integration with Unsplash, a top-rated stock photography site.
Finally, Website Builder automatically generates a mobile-friendly website, and users can preview their responsive websites on desktop and mobile devices before and after publishing.
Built-in Website Popups

Website popups can be used to Grab your visitors' attention, generate leads, promote new content, use exit-intent (pop up) to make them stay on your site, and feature special offers.
Popup forms come with a range of settings and customization options.
A Complete Website Solution
GetResponse provides a complete website solution, it afford users the hosting and domain services together.
Furthermore, Customers can use free domains, connect existing domains, and buy new domains all within the Website Builder. It also include SSL certificates for website security.
Search Engine Optimization
The SEO settings help to increase visibility, discoverability, and organic traffic. It add metadata for titles and descriptions, and change URL slugs to support keywords.
Also, you can choose if search engines should show your pages in search results.
Performance Analytics
This feature review website analytics for predefined and custom data ranges. The performance data includes: traffic, devices, location, click tracking, and forms/popups.
An All-in-One Platform
Website Builder extends GetResponse's complete range of marketing apps. By having a set of
essential marketing tools in one place which allow users to scale their activities, capabilities, and
efficiencies.
CLICK HERE TO TRY GETRESPONSE FOR FREE
Who Need GetResponse Website Builder
Start-up Businesses: Getresponse is arguably the most suitable digital marketing tool for any start-up business especially if the business is running on a low budget.
Only the Basic plan that cost you $15 per month provides you with all the necessary tool you need to kick start and grow your business and this could probably cost you up to a thousand bucks if choose another marketing tool.
Marketers: I hate repetitions, but GetResponse is arguably the most suitable digital marketing tool for internet marketers.
Whether you are an affiliate marketer or an all-around marketer, you get everything you need. From an affiliate-friendly website to email marketing autoresponder and sales funnel, unlimited landing pages to build a subscriber list.
Content Creator: If you are a content creator, you'd already know you will need a conversion funnel, a landing page, an opt-in form to convert your subscriber to a full customer. GetResponse gives you all that and more.
Professionals: Surely, professionals like Lawyers, realtors, and Chef… are not marketers, but they need to get their products or services out there, so a professional website seems inevitable, and with GetResponse website builder accompany with a complete marketing ecosystem, their business need is catered for.
Lest I forget, there are 'professional marketers' too!
Freelancer: As a freelancer, you need a stunning-looking portfolio to showcase your craft to stand a chance in a very high competitive freelance markets like Upwork, Fiverr, and the rest of them.
With Getresponse Website Builder, you will create a stunning portfolio website that will cover all your design needs plus all the essential marketing tools to promote your service.
Benefits of GetResponse Website Builder
Complete Marketing Tools: You are not only getting a high-performance website with GetResponse AI wizard, but also, you get a complete suite of solutions (including email marketing, automation, popups, chats, paid ads, webinars, web push notifications, and more) to transform your business for better.
Free Trial: There are 30 days full trial on every plan to test out GetResponse website Builder and other marketing features with no credit card required and you can cancel anytime you want.
I guess it's fair to hit the subscription button now.
CLICK HERE TO TRY GETRESPONSE FOR FREE
Complete Website Solution: Users can use a free domain, connect an existing domain or purchase a new domain with an SSL certificate without ever leaving GetResponse.
SEO Integration: Robust SEO strategy is critical for online business, But a typical SEO tool cost $50 on the average.  GetResponse website builder comes with SEO integration that aids your business visibility, discoverability, and organic traffic for a lesser price.
Discount: When you pay for a year on any plan, you get 18% off, also, if you pay for 24 months you get 30 % off.
Pricing
Like other marketing tools out there, GetResponse has four different plans to choose from depending on the need and size of the business. They include:
Basic Plan – $15
Website Builder
Email Marketing (with Autoresponder, Basic Landing pages…)
1 Sales Funnel
Chat system
1 user
Manage up to 1000 subscribers
Plus Plan – $49
Everything in Basic
Automation Builder
Webinar
5 Sales Funnels
Contact scoring and Targeting
Up to 3 users access
5 Webinar funnels
Professional Plan – $99
Everything in Plus Plan
Unlimited Automation Builder
Web Push Notification
Unlimited Sales Funnel
Unlimited Webinar
5 users Access
On-demand Webinar
Paid Webinar
Max Plan- Custom Pricing
Everything in Pro Plan
Transactional Email
Dedicated Support
Multiple account and users
Account Migration support
Team and Role Management
Webinar
Assisted IP to warm up
Single on
CLICK HERE TO TRY GETRESPONSE FOR FREE
How does GetResponse Website Builder Work?
GetResponse AI can prepare the whole site for you based on your answers to a few short questions. You get three premade websites to choose from, which can be later customized in an easy-to-use drag-and-drop editor.
You can use one of the predesigned templates and customize it in a simple drag-and-drop editor. 
See GetResponse Website Builder Demo
Pros
No Code solution for website building
Design Freedom
Pre-made Template for your industry
Complete Marketing Ecosystem
30 days Free Trial
Cons
Unlike other marketing tools, GetResponse does not provide a free plan
Once the user's list exceeds 1000 subscribers, GetResponse charges extra.
Writer's Note
Let face it, a website is not just the heart and soul of any business. It's also the engine that runs its online presence.
Meanwhile, having a website is one thing, integration of essential marketing tools (Email Marketing, Google Ads, and Facebook ads, SEO, popup, Landing pages conversion funnel) to such a website is everything to run a profitable business online.
That is why GetResponse is a complete 'marketing toolbox' that is a must have for every business.
Dear Reader, at this juncture, if you are still not sure whether to opt-in for GetResponse or not, this writer is advising you to CLICK HERE and TRY it for FREE as you have nothing to loose.
CLICK HERE TO TRY GETRESPONSE FOR FREE