In this Email Marketing software review, I will take you through our best four Email Marketing Software in 2021 which include: GetResponse, Mailchimp, ConvertKit, AWeber.
Quick fact!
If Email Marketing is the best marketing channel as agreed by 86% of marketers (DMA), Email Marketing software is the one behind the magic.
So, not using email marketing software for your business in 2021 means you are leaving a lot of money on the table.
Disclaimer
Allroundreview and/or its affiliate or brand/trademark or its establishment are not directly or indirectly linked to any of the platforms mentioned here or their admins or creators.
This is not a paid post, nor is it public aid. Allroundreview or its publisher[s] may receive a token or reward when you use any of the provided links to these platforms or their registered domain.
Without further ado, Let get started!
Table Of Content
Email Marketing Overview 

Three reasons you need Email Marketing for your Business

What is Email Marketing Software?

Email Marketing Software Review  (2021)

Summary
Writer's Note
Email Marketing Overview
Many businesses aren't still aware of how email marketing works and how it can drastically increase their revenue.
The gimmick of social media and probably  "email marketing is old fashion" mindset they have is clouding them to see the wonders of email marketing, even though they hear it every day that email marketing outperform every other marketing channel out there.
It would be unfair to fault them though, one of the unwritten laws of business is that "understanding precedes action". That is, you are most likely to take action when you understand how business works.
On that note, it would be a good idea to take a minute to look at what email marketing is before we get on with the Email Marketing Software review.
In a simple term, Email Marketing is a practice of communicating with leads or subscribers through email which could be in form of a newsletter, product awareness, and promotions, event announcements. It is an effective component of Digital Marketing.
Three Reason why you need Email Marketing for your Business
There are certainly plenty of reasons you should use email marketing for your business.
But check these Three (3) out first.
You have direct access to your leads or subscribers.
When you get people to subscribe to your email list, it simply means they have an interest in whatever you are selling, and You don't just have direct access to their inbox, you own them for life.
And you can sell as much as possible to them as long as you keep the rule of engaging them with valuable content and irresistible offers, they will surely be looking forward to your next email.
However, this is not the case when it comes to Social media as t
Plus, you can't just put all your business eggs in one social media basket, it's not just business-wise.
A sudden policy change from Facebook or Instagram algorithm might slam your business flat on the ground. Back to square one?
I bet you don't want to start all over again.
Okay, this is the juicy part!
Of all Marketing channels, Email Marketing has the highest ROI,  Don't just take my word for it, the following stats present it better.
An email subscriber worth an average of $48.87 (Direct Marketing Association). Imagine having a 100,000 email list.  you do the math!
Also, according to Constant Contact. Email Marketing ROI is 42:1, that is, when you spend a dollar on email marketing you get an average of 42 dollars.
Another study by Disruptive Advertising shows that Shoppers that get marketing content through email spend 138% more than those who do not receive email offers.
Engagement Rate is Higher than other Marketing Channel
Email Marketing has a higher engagement rate than all social media marketing put together.
Yes, you hear that right!
According to Mailchimp, The average newsletter open rate is 21.33%, compared to Facebook (the largest social media platform) organic engagement which has plummeted to less than 1% in 2021.
The reason is not farfetched, is it?
People go on social media primarily for social activities. Your pretty little ads hardly the reason why they are there. I guess everyone can relate to that. 
On a contrary, when people open their mailbox, they are already conscious of the promotional content they are going to see. You can check this HubSpot report on consumers' choice of channel to receive the marketing messages.
What is Email Marketing Software?
Email Marketing Software is service-based software that allows users to do more than sending emails to the subscriber, with the software you can: Build and grow an email list, use a pre-made email template, Design or use Done For You Conversion Funnel like Landing pages and Opt-in form.
Additionally, It allows users to put everything on an autoresponder. That is, you can schedule as many emails sequence as you want then go to bed. The autoresponder feature will do the magic.
Email Marketing without
A recent study revealed that automated email drive about 320% revenue more than those that are not automated (Campaign Monitor)
I mean it's 2021, and the name of the game shouldn't be anything other than convenience!
Best Four (4) Email Marketing Software Review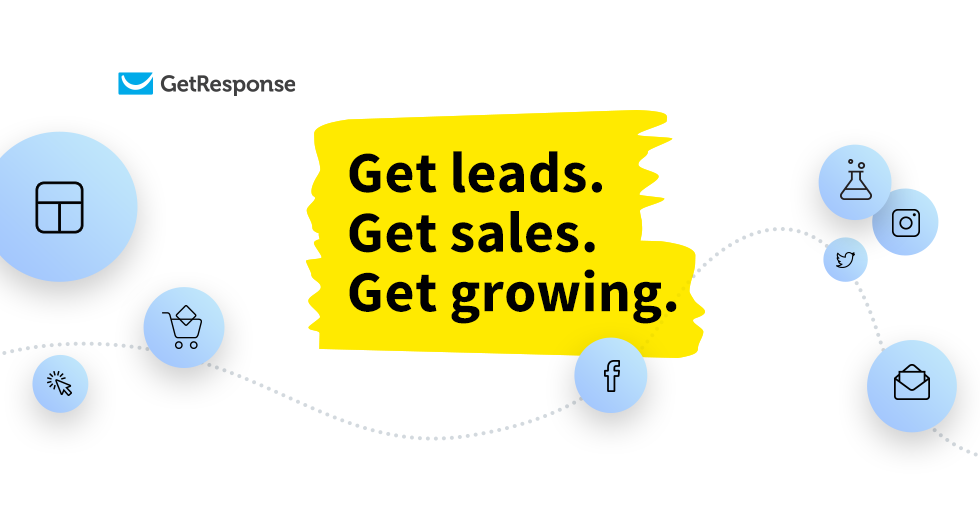 GetResponse is not your regular email marketing software, it is what I called a 'multipurpose' marketing Ninja. it has some unique features you may probably not find in any email marketing tool out there.
Apart from the following regular features of any modern email marketing software: marketing Automation, pre-made email template, autoresponder, and stat analysis.
GetResponse standout with the following unique features:
Webinar Hosting that can accommodate up to 500 attendee
Conversion Funnel like landing page, lead magnet, opt-in form (mobile friendly)
Web Push Notification
Web push notifications to interact or keep the audience posted about new updates
Website Builder (New)
Social Ads Creator that comes with pre-made templates
Seamless Integration
Pricing
Pros
It aid list management with Data Segmentation options. That is, you can send an email to multiple segments of subscribers at a click.
Its basic plan is cheaper compare to its competitor like
It's easy to use
Its live chat support almost immediately you say "Hi"
It allows users to manage various marketing activities under one roof.
The basic plan includes all the features anyone could need to get started on Email marketing.
30 days free trial that doesn't require a credit/debit card.
Cons
The Advance automation can get complicated especially for non-techy users.
Once the 30 days free trial expires, there is no free plan.
GetResponse has removed its telephone support option
It's not economical, especially when you have a bigger list
ConverKit
One of the major selling points Convertkit offers is the ability to connect your custom domain and add your digital product like  Ebook, video courses, or even music. The process is as simple as removing banana skin.
It's no surprise it's a more suitable email marketing tool for content creators.
Key Features
Tagging System
Email Automation
Autoresponder
Ecommerce Integration
Conversion funnels
Pricing
Pros
Flexible List Management
It is perfect for content creator
integration with Ecommerce
Timely Customer Support
Good interface and
It has Free Plan for up to 1000 subscribers with limited features
Cons
Limited Templates
Email Formatting can be difficult for a non-tech person as it may require some coding
It doesn't allow users to host webinar like GetResponse
No Social Media Ads Creator
Mailchimp
Mailchimp is arguably the most popular Email marketing software in the market with over 17 million users.
One of their major selling points is their free plan which includes an autoresponder, transactions email, analytics, and integration options which make it a good feat for small businesses.
Also, it's very economical, with less than 15 bucks you can manage up to a hundred thousand list. Let see what the pricing plan looks like.
Pricing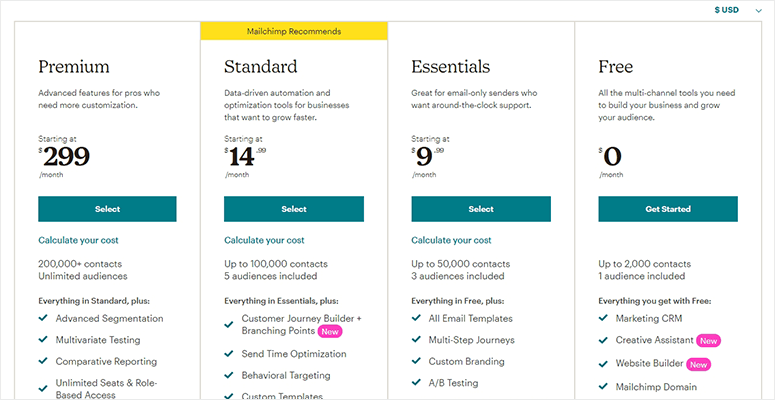 Key Features
Template Editor
Integration
Email Automation
Report and Analysis on client conversion and location
Drag and Drop Builder for Conversion funnels.
Website Builder
Pros
Freemium Plan
Good for Small Businesses
Seamless integration with Social media and Ecommerce
Easy to use template editor
Customer chat support
Marketing CRM
Cons
Not a good feat for affiliate marketer
AWeber
Most Email Marketing Software reviews you would read on the internet will tell you AWeber is the most basic and easy-to-use Email Marketing software out there.
If you don't like complications or you are not a techy person like that, You will really find AWeber very easy to use. And like other Email Marketing Software, they offer email marketing automation, email template, landing page, and Integration.
Before I forget, they also have free a plan that allows users to manage up to 500 subscribers with limited features.
In addition, One of the reasons why most marketers use AWeber is it high deliverability rate.
Let look at the Pricing!
Pricing
Pros
High Deliverability
Easy to Use
Sales tracking and analytic
Excellent Customer Support
Cons
The price is unfair to compare to what you get
It lacks sales and leads generating functionality
Summary
The fact is, there is no perfect email marketing software for everybody, and most of this software have their various strengths and weaknesses in relation to users' need.
This email marketing software review is based on the reviewer's personal experience on the listed software, take for instance, as an affiliate marketer, I had a terrible experience with Mailchimp the first time I used it.
In fact, I got suspended before I later found out that they have a very strict rule when it comes to affiliate links.
Base on my personal experience, GetResponse is suitable for Big Brand, It gives you almost everything you need to run a digital marketing campaign. However, one of the major downsides is, GetResponse is quite expensive when you have a large list.
Meanwhile, if you run a small business or you have a large list of 50,000 to 100,00 Mailchimp is a good feat for you. Its Freemium plan even allows you to manage up to 2000 contacts, which is just too generous to ignore.
On the other hand, if you are the type that likes keeping things simple, or you need an Email Marketing Software that gives you all the support you need, you can go for AWeber. Only if you have the budget.
Lastly, Converkit is best suitable for content creators, so if you are a YouTuber, a Blogger, or an Artist ConvertKit is your best shot.
Although its freemium plan does not include an autoresponder it can get you started, after all, everyone (users and service providers) is in the business of making money!
In conclusion, no matter what your business need is when it comes to email marketing, any of the four email marketing software listed in this post will cater for it. You just have to choose the one that is suitable for your business.
Writer's Note
There you have it, I hope you enjoyed the post. If you have a contrary experience to what I presented in this post, please don't hesitate to leave your comment below.
Also, I will like to know which of the reviewed email marketing software you think is the overall best based on their features, Pros, and Cons.
And if you want to start using email marketing for your business and you don't know How to get started, you can start a conversation with me (email protected).
Until next time, stay safe.